Count on the Spaeth Transfer, Inc. Outstanding Team of Local Movers Serving Bainbridge Island and Surrounding Areas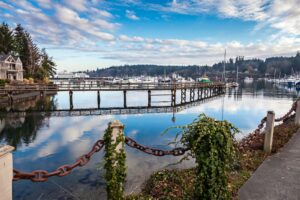 Our local movers provide seamless relocations for residents of Bainbridge Island, Seattle, Bremerton, and more
If you are planning a move in the western part of Washington state, including scenic Bainbridge Island, contact Spaeth Transfer. Our local movers have years of experience coordinating seamless relocations for residents and businesses.
Our area of the country is unique. Successful relocations in communities such as beautiful Bainbridge Island require extra planning and specific resources. We know the area well and when it comes to the logistics of coordinating your move, we anticipate potential problems for a smooth and efficient experience. Explore the scenic vistas and all the amenities the area offers while we handle the details of your move.
Our Local Movers Cater to Your Specific Needs
Individual care and attention are the cornerstone to our outstanding customer service. Friendly and courteous team members will design a relocation plan for your specific needs and budget, so you can select the services right for you and are not stuck paying for unnecessary assistance. As agents of Allied Van Lines, we offer our clients access to the many resources a global leader in the industry provides along with the responsiveness and experience of local movers. Whether you are moving across Bainbridge Island, out of state, or internationally, we take care of everything.
In addition to our extensive moving services, we help residents and businesses with storage and warehousing needs. Climate controlled, monitored warehousing helps make your life easier when you have a gap between closing dates, your home is under construction, or your business has excess inventory. We meet all your storage needs and coordinate delivery when most convenient for your schedule.
Contact Us Today
To learn more about our services and to schedule a consultation for a free quote, contact Spaeth Transfer by calling (360)200-5041 or filling out our online form.